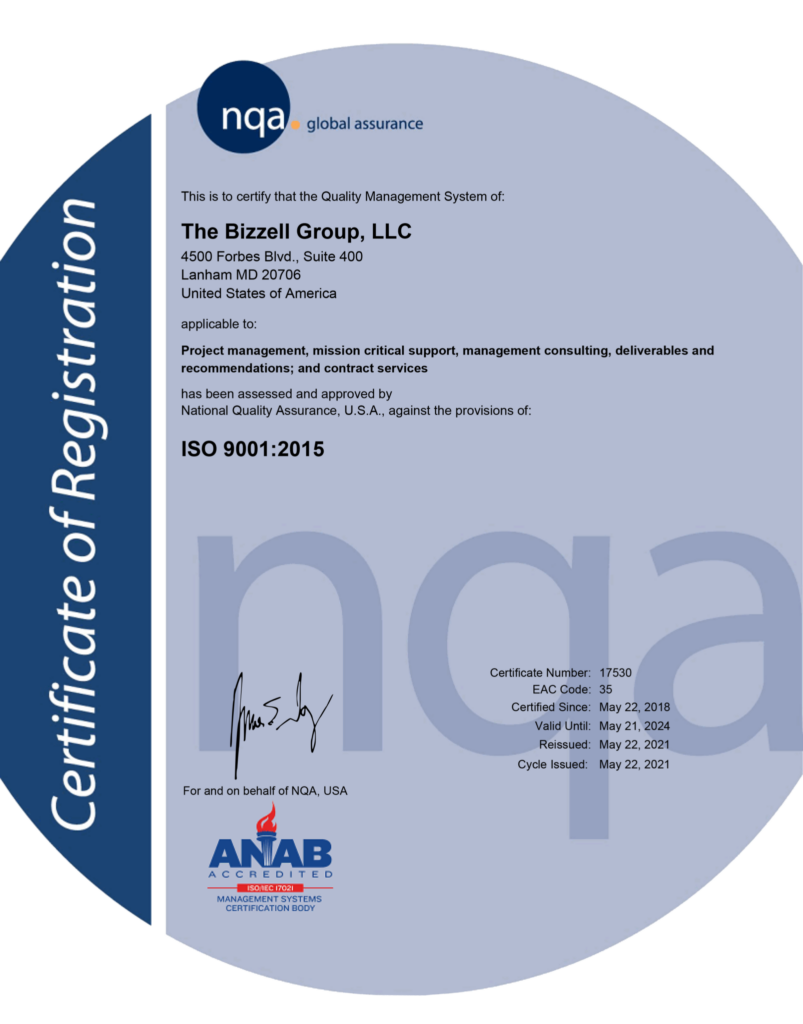 Certificate Number: 17530
EAC Code: 35
Certified Since: May 22, 2018
Valid Until: May 21, 2024
Reissued: May 22, 2021
Cycle Issued: May 22, 2021
We are thrilled to announce that The Bizzell Group (Bizzell) has completed the ISO 9001: 2015 certification, an international standard that ensures that our products and services are governed by a quality management system company to meet and exceed the needs of our clients.
Bizzell's decision to undergo this intense process demonstrates our commitment and dedication to delivering the highest quality services. In this competitive business environment, our clients, partners, and potential clients and partners can rest assured that we have invested the time and resources needed to complete the audit process and that we have invested heavily in our management systems, technology, and processes to ensure flawless execution of our services.
"It was important to me that The Bizzell Group became ISO certified, not just because it demonstrates to our clients that our services are top notch, but also because it reflects one of our core values – excellence." –Dr. Anton C. Bizzell, President & CEO
ISO certification required the development of a quality management system, a management system documentation review, audit and initial assessment that Bizzell passed without any non-conformities.
To maintain our certification, Bizzell will have to continue to meet rigorous ISO requirements and remain committed to our services and clients.